EASTON YOUTH BASKETBALL FUNDRAISER TICKETS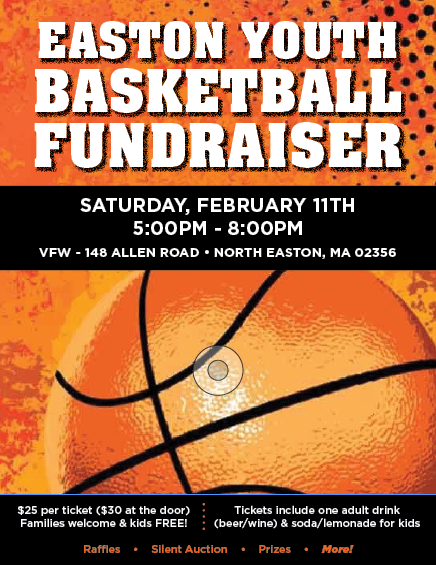 Help support Easton Youth Basketball by attending our fundraiser on Saturday, February 11th, from 5 - 8 pm at the VFW in Easton. $25 per ticket for adults (includes one beer/wine - light apps, snacks) - kids free. Stop by anytime between 5 - 8 pm for raffles, silent auction, slide show, and say hello to other families. All proceeds will go back to lowering overall costs, gym time, equipment, and more.
If you would like to help plan this event, or donate a raffle or silent auction item, please email Jim Spillane: James13p@aol.com or text (508) 846-1254
Board of Directors
President Jon Fass
Vice President Brett Krause
Treasurer Greg Colegrove
Chief Administrator Jim Spillane
Director of Rec Programs Ryan Anderson
Equipment Manager John Hrenko
Gym Coordinator
Uniforms & Apparel John Hrenko
Fundraising & Social Media
CORI & Safety Nate Crossman
Coordinator (Metrowest Travel) Mike Glynn
Coordinator (Girls Rec) Kara Dupill
Coordinator (Boys Rec) Ryan Anderson
Coordinator (Junior Rec ) Ryan Anderson
Coordinator (Junior Rec )
Coordinator (Junior Rec)
Coordinator (High School Rec) Jamie Walsh
Questions About Easton Rec Basketball?